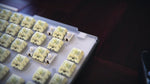 Main GB will begin after protos arrive and are approved. GB will run until all units are fulfilled.
Alpine65
Availability 
500 units, first come first serve. Sold in 2 batches.
Batch 1: 260 units, available after protos have been reviewed and before streamers stream/videos are posted. November 26th at 11:00 AM PST 
Batch 2 (Main GB): 200 units, available after Taeha Types' Stream. Exact Time TBD. Time will fit most time zones.
Remaining 40 units will be reserved for committee and others.
Group Buy will run until all spots are reserved.
No color limit.
Navy will not be available until color is approved, when it will appear on the listing.

Color samples will be posted on Discord, socials and on the listing itself.

Limit 1 board per customer.
All times in PST.
Pricing
Starting from $315.00 USD. Pricing is higher than expected, as the outcome of the election is still debated, and whether the tariff will be present during shipping or not is unknown. My apologies for the inconvenience.

Updated price will be constant across all regions

$

20 surcharge for e-white. $10 surcharge for brass plate.
Vendor 
Will be available from our storefront, bitmapstudio.xyz

No other vendors will be present for this group buy.

All orders will be shipped from the US. My apologies to customers in Asia and abroad.
We will work to find a solution for shipping to Asia/Europe however due to logistics headaches it may not be possible for us. If a solution is found, orders from affected regions will have their shipping partially refunded.
We are not responsible for customs fees. We will work to mitigate them.
Extras
Extra plates, PCBs will be available during the group buy.
Please order WITH a board. If you would like to combine your extras and main order, please email us at support@bitmapstudio.xyz
Purchasing Options
Board will be hosted on this site, and will support standard shopify payment methods. 

No Paypal. Paypal is terrible to work with, especially for group buys. Apologies for the inconvenience. 
Options
Same colors as announced: 

Plate options:

Aluminum (Color: Black, 1.5mm thick)

Brass (1.5mm thick)

FR4 (1.5mm thick)
Expected Shipping Date
Expected: 4 Months

I am fairly confident that we will have a fast turnaround time. However, due to this group buy inevitably colliding with the Chinese New Year holiday, there may be delays.

This is a Group Buy. Please expect delays, however we will work as hard as possible to get your board to you as soon as possible.
Streamers 
Taeha Types, TaeKeyboards will be receiving units to stream.
Disclaimer
This is a Group Buy Product! When purchasing, you are acknowledging that you have fully read the above information and understand the product that you will be receiving. The estimated shipping time is an ESTIMATE. Note that there may be delays in Manufacturing or Shipping due to unforeseen circumstances. There will be no refunds or cancellations after you place your order. However, changes will be supported.
Alpine Deskmats
Manufacturing Almost Complete!
Will be shipping to Bitmap Studios via Ocean Shipping.
There will be an extremely limited amount of extras.
ETA: Will ship from factory Nov. 15th. Will be shipped out as soon as units arrive at US location.
Others
Join 2900+ members on our

 

Discord Server!
We will now be posting all updates here.