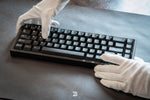 Iskar Final Prototypes arriving soon, New Team Members, Long time no see!
General Summary of Contents
Iskar

Iskar FINAL Prototypes
Iskar GB Details/Streamers
Iskar Prototype Log

Welcome our new team member, Shiro!
Alpine65

Additional Extras
Potential Round 2

Tidying up
Iskar
Iskar has been a long time in the making and has gone through much more rigorous testing and prototyping to ensure the best possible sound, feel and quality.
Iskar Final Prototypes
Final Prototypes are finally on the way! We have 2 colorways:

Navy + PVD Mirror Polished Stainless Steel Rim/Weight
Black + Black PVD Mirror Polished Stainless Steel Rim/Weight

5 of these prototypes will be making their way to streamers
These should have close to final packaging, although minor changes in material and printing may occur with the final product
Anodization marks appear on the inside for these prototypes, but should not appear in the final product, as we have added wells for the hooks to sit in while the boards are being anodized.
GB Details and Streamers
A full Iskar prototype will be sent to 5 streamers/youtubers, which include

Taeha Types
Alexotos
NearLucid
TaeKeyboards (PENDING)
Wildcat (PENDING)

In addition to these streamers, a few units may also be sent to other streamers.
Streams/Videos will occur between the end of December to Mid-January.
Likely GB Date will be near the end of Jan.
Price is now TBD and subject to change.
Updates will be posted to our Discord.
Iskar Prototype Log
FINAL Prototype:

Final finishing and features. Small additions may also be included in the delivered product
+ Anodization hook wells
Will change packaging slightly.

Prototype Round 2

Black/ Mirror Polished Black rim/weight
Finishing and PVD look fantastic!
Flex, sound much better than round 1.
Fitting of keycaps fixed + plate options evaluated
Changing of packaging
PCB Issues, fixed with DrewKeys

Prototype Round 1

E-White Case/Anodized Black Weight
Stiff, fitting of top and bottom case are not streamlined
Redesigned weight attachment method
Rim interferes with keycaps; size of rim decreased.
Stiff Feel + dense sound; added flex cuts + more space in board.
Inside Engraving not perfect
Welcome, Shiro!
After more than 1 and a half years of development, Iskar is finally on the near horizon, with final prototypes coming in and about to go to streamers. From the time I started with the Alpine65, Bitmap Studio has grown immensely.

Thus, I am happy to welcome our very own Shiro as an official Bitmap Studio team member!

Shiro has already been a part of Bitmap Studio since the Alpine65 was first posted to GeekHack. You may have seen him answering questions around this server or answering your support tickets. Over the past year, he has helped me immensely with customer support and advice and will be an extremely valuable addition to our team.

Here is a quick introduction from him:
Hey everyone, Shirogane/Shiro here! I'm from the small island of Singapore, born and raised, currently taking my degree in film and just a massive nerd in the keyboard community! I've been in the mechanical keyboard hobby since late 2018/early 2019, so to say I'm pretty invested in the hobby is an understatement. I'm also a small deskmat designer, creating deskmats for switches such as the JWK Moss, Okomochi, the Fruit Switch Lineup and also for GeekArk Triangles.
I stumbled upon Bitmap Studio and the Alpine65 in my early years of the hobby and joined the Bitmap Server close to the beginning, when it still had 200 members. The community has been great, met the nicest of people here, had the honor of joining the committee and ultimately becoming an admin for the server and it has honestly been an immense pleasure getting to know each and every one of you guys.
I hope you guys are doing well, and I hope to spend more time to help everybody in this hobby!
Alpine65
Additional Extras
Based on demand, we may be releasing some more extras for Alpine R1, including plates, PCBs etc.
Do send an email to support@bitmapstudio.xyz if you are interested in this.
Potential Round 2
Based on current demand, Alpine65 R2 seems very likely. 
Most likely will run while Iskar is manufacturing.
Will include an In-Stock aspect
Board internals will be redesigned to support more flex via the keyboard and PCB, less compressed design and other minor changes
Carrying case may change.
Keep an eye out on our Discord server!
Tidying Up
Expect more frequent updates on Discord and here.
Any questions or support, contact support@bitmapstudio.xyz
Find our Instagram at @bitmap.studio