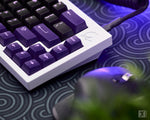 Alpines arriving soon, Deskmat Information
General Summary of Contents
Alpines have arrived in the US and are awaiting Customs Clearance.
Monochrome Deskmats have finally arrived
Deskmat Extras
+ More exciting announcements 
Bitmap Studio Youtube Channel
Alpine65
Shipping Information
Initial Air Shipment of 30 E-White units have arrived and have already been shipped out.
The rest of the units departed China in February and have now arrived in the US, pending Customs Clearance.

Large delay at the Los Angeles port, as many shipments are in queue for customs clearance.
Alpine65s expected to clear customs by the end of the month and arrive at our location.
Updates will be posted frequently on the Discord Server
Extras (Plates and PCBs) Information
Extra Plates and PCBs will be available once Alpine has cleared customs. You will have the opportunity to add these to your order and save shipping.
These will be FCFS, date TBD and will be announced on the Discord Server.
Extras Information
Extra Alpine65 Units will be available after ALL units have been delivered and there are no problems with them. 
There will be a moderate (not a lot, but also not very little) amount of extra units.
Extras will be announced only on the Discord Server.
Pricing will be an additional $60-80 on top of Group Buy price.
Build Guide
Please be reminded that we have a Build Guide

 

thanks to our committee member Becca!

You can find it at

 

build.alpine65.xyz
Big thanks to Becca for making this for us

Becca's GB for her Redux Deskmat series is now live.
Alpine Deskmats
These have all arrived!
Missing orders and orders that are not 'in transit' are now shipped.
Extra Deskmats will be available Sunday at 10AM PST.
Iskar
Coming Q2 2021.
Others
Join 2800+ members on our

 

Discord Server! We have production videos, and update on progress multiple times a week. We have a great community as well!
We will now be posting all major updates here.
Find our Instagram at

 

@bitmap.studio
Featured Community Projects
Bitmap Studio Youtube Channel
Group Buys/Interest Checks
REDUX Deskmat Series - GB Live until 4/17/21
JTK Monke - Ooh Ooh Ahh Ahh
Content Creators
TaeKeyboards - Alpine Video
NearLucid - Alpine Video
Shoobs - Shoobs being a shoobs shoobs shoob