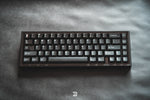 Important information about Iskar's GB
Iskar
Availability 
First come first serve, soft cap on units. Sold in a single batch.
Group Buy will run until all spots are reserved.
No color limit.
GB will run:

January 25th at 8:00 PM PST

to February 8th or until supplies run out 
Pricing
Starting from

 

$489.00 USD. 
+ $20 USD For E-White Cases
Extra Rims starting at $98.00 USD
Vendor 
Will be available from our storefront, bitmapstudio.xyz

No other vendors will be present for this group buy.

All orders will be shipped from the US. My apologies to customers in Asia and abroad.
We are not responsible for customs fees but will work to mitigate them.
Extras
Extra rims, plates and PCBs will be available during the group buy.
If you would like to combine your shipping, please email support@bitmapstudio.xyz
Purchasing Options
Board will be hosted on this site, and will support standard shopify payment methods. 

No Paypal
Options
Iskar will come with 5 standard color combinations. The default plate is PC. Any plate ordered on top of that will be included with the PC plate. You are able to choose a case color and rim color separately when ordering.
Rim + Weight Colors (Both will be the same color)

Black PVD Mirror-Polished Stainless Steel
Silver PVD Mirror-Polished Stainless Steel
Gold PVD Mirror-Polished Stainless Steel
ROSE GOLD IS NOT AVAILIBLE AS A WEIGHT COLOR, HENCE IT IS NOT OFFERED IN THE BASE!
Extra Rim Options (RIM ONLY)

PVD Black

PVD Silver

PVD Gold

PVD

ALUMINUM

Rose Gold

Plate Options

PC Plate (DEFAULT)
Aluminum Plate
Some Color Combo Recommendations:
Expected Shipping Date
Expected: 4-5 Months

I am fairly confident that we will have a fast turnaround time. However, due to shipping delays and COVID, there may be delays.

This is a Group Buy. Please expect delays, however we will work as hard as possible to get your board to you as soon as possible.
Streamers 
Alexotos has already streamed the board.
Taeha Types, NearLucid and Dutchmaster will be reviewing the boards
Disclaimer
This is a Group Buy Product! When purchasing, you are acknowledging that you have fully read the above information and understand the product that you will be receiving. The estimated shipping time is an ESTIMATE. Note that there may be delays in Manufacturing or Shipping due to unforeseen circumstances. There will be no refunds or cancellations after you place your order. However, changes will be supported.
Warranty Information
The Iskar's warranty begins the day of the delivery of the board as stated by the shipping carrier's website. Any shipping problems must be claimed with the carrier and not Bitmap Studio. From the day of delivery, the cosmetic warranty expirtes as soon as the user begins to build the board (attaches gaskets, puts switches in plates). The functional warranty will last for 6 months. Iskar's warranty is only valid for the original buyer and is NOT transferable. 
[Cosmetic Warranty] THE COSMETIC WARRANTY EXPIRES AS SOON AS THE USER BEGINS TO BUILD THE BOARD. ANY REPAIRS OR REPLACEMENTS BEYOND THIS IS FULLY UP TO THE DISCRETION OF BITMAP STUDIO. The warranty protects from defects outside of the quality requirements for the unit's graded stock. Any cosmetic issues will be evaluated individually and Bitmap Studio reserves the right to refuse replacement, repair, and all other reparations for all cosmetic problems based on the discretion of Bitmap Studio. 
[Functional Warranty] Functional problems for A-Stock boards are evaluated on if they affect the normal everyday function of the board. If an issue leads the board to not function as intended, such as if (a) key(s) don't register, the board doesn't screw together, or if the keys are inhibited from moving in any way.
Others
Join 3400+ members on our

 

Discord Server!
We will now be posting all updates here.