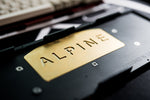 Alpine GB Closed, Deskmats finally arrive, [REDACTED]
Alpine65

General Summary of Contents
Group Buy is closed!

Group Buy has been closed as all units have sold out.

Order has been submitted to the manufacturer.

The ETA is on time, Q1 2021.

Changes have been made to the plate and foams
We have a new Build Guide!
Changes
New PORON Foams

Soft PORON Gaskets
Hard PORON Gaskets
Soft PORON PCB-Plate Foam
Hard PORON Case Foam

New Plates sent to reviewers. After discovery by Taeha Types, we have discovered that there may not be adequate room within the stabilizer cutouts for full stabilizer wire movement. We have made the following changes and sent replacement POM Plates (not available for purchase) to reviewers
Build Guide
We have a new Build Guide thanks to our committee member Becca!

You can find it at build.alpine65.xyz
Big thanks to Becca for making this for us

Becca is running the Redux Deskmat series

Alpine Deskmats
These have arrived!
Orders from bitmapstudio.xyz that do not include a monochrome deskmat have been dispatched.
We are missing a number of Monochrome Deskmats due to both manufacturer miscounting as well as lost in transit. We are working to solve this problem as soon as possible.
CandyKeys' Deskmats are still in transit. They should arrive in the next week or so (by the end of 2020)
ETA: November
Iskar
Never send a human to do a machine's job.
Coming 2021.
Others
Join 2800+ members on our

 

Discord Server! We have production videos, and update on progress multiple times a week. We have a great community as well!
We will now be posting all major updates here.
As you may have noticed, we have a new site! This is to allow for more room for future projects. Stay tuned - this is an exciting time!
Find our Instagram at @bitmap.studio