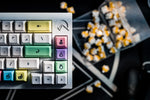 Cases, PCBs, Deskmats - Good Things to Come!
Alpine65
PCB Revisions Complete - PCB Prototypes done by end of month, will ship with case prototypes.
Case Proto R2 Ordered - ETA: TBA

1x E-White, 1x Smokey Black, 1x New Navy color.

Changes for R2 Protos

Larger Gaskets
Thicker Left Bezel
PCB-Plate Foam added

We will also be testing the following new plates:

FR4
Polycarbonate (1.5mm)

Due to Tariffs, the price of the Alpine65 may be increased marginally.
Alpine Deskmats
Manufacturing Almost Complete!
Will be shipping to Bitmap Studios via Ocean Shipping.
There will be an extremely limited amount of extras.
ETA: November
Others
Join 2300+ members on our Discord Server!
We will now be posting all updates here.